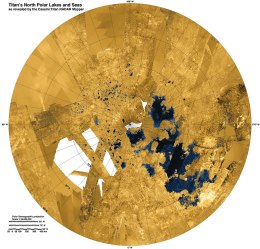 If there were such a thing as moon envy, Titan would probably have it bad. It wasn't long ago that Saturn's biggest satellite was making one headline after another. Lately, though, most of the action has been happening on Europa, a moon of Jupiter, where astronomers have been announcing all sorts of discoveries—the most recent being what might be 100-mile-high geysers spewing from ice-covered seas.
But Titan is back. Thanks to the ongoing Cassini mission, which has been studying Saturn and its moons since 2004, planetary scientists already knew that Titan, the only moon with a substantial atmosphere, is dotted with lakes and even small seas. They're not filled with water, but with hydrocarbons like methane and ethane. And now, say Cassini scientists, radar observations have shown that a body known Ligeia Mara is about 560 feet (110 m) deep. And a stunning new video NASA just released provides the first good look at the distant moon's entire lake region.
"The measurement we made," said Marco Mastrogiuseppe, a member of the Cassini radar-imaging team, in a press release, "shows Ligeia to be deeper in at least one place than the average depth of Lake Michigan." It's also bigger in area than Lake Superior. And armed with that knowledge, plus some reasonable assumptions about Titan's other lakes, Mastrogiuseppe and his colleagues peg the total amount of hydrocarbons sloshing around on Titan's surface at about 2,000 cubic miles' worth—about 40 times, they say, the total proven oil reserves on Earth.
(MORE: Mars: New Clues to Life in 'Lake Doughnut')
Nobody's even daydreaming about exploiting that resource, which lies more than a billion miles (1.6 billion km) away. But scientifically, it's gold mine. In many ways, Titan is like a bizarro, looking-glass version of Earth—not just in terms of its lakes, but also its atmosphere and its cycle of evaporation and rainfall.
"Learning about surface features like lakes and seas helps us understand how Titan's liquids, solids and gases interact to make it so Earth-like," said Steve Wall, another member of the radar team. "While these two worlds aren't exactly the same," he said, "it shows us more and more Earth-like processes as we get new views."
(MORE: New Take on an Ancient Mystery: How Earth Got its Moon)
The scientists are also beginning to understand why all of the lakes and seas cluster in a relatively small region in Titan's northern hemisphere. It has, they say, to do with the fractured geology of the area, which creates low points where the liquid methane tends to accumulate. An Earthly analogy: the geology of northwestern Nevada, where a prehistoric expanse of water called Lake Lahontan pooled in ancient times, thanks to just such surface features.
The new views Wall talks about aren't finished, either. Titan's lake region is about to enter summer, when evaporation will increase, triggering a more active weather cycle. Europa is still plenty interesting, but for now it might have to be satisfied with taking a back seat to its bigger, more Earthlike cousin.